Summit Platforms support IPAF's Women in Powered Access initiative
Posted on
From left to right: Catherine McCreedy from Speedy Powered Access, IPAF President Karin Nars, Megan Campbell from Summit Platforms. Photo courtesy of IPAF. This time last week, Summit Platforms engineering apprentice Megan Campbell was out supporting the Women in Powered Access initiative at the Vertikal Days 2022 event. This initiative, launched by the International Powered Access Federation (IPAF) aims to recognise and celebrate the contributions of women in powered access and support......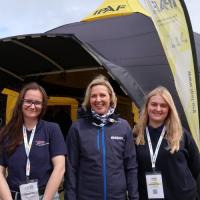 ---
Summit Platforms opens new centres to boost IPAF training
Posted on
Summit Platforms is significantly extending the IPAF training offering it provides with the opening of four new training centres across the north of England and Scotland. The rental company already offers a national training service – now that is being boosted with the opening of the new training centres at its depots in Glasgow, Wakefield, Haydock and Birmingham. Summit Platforms, Steve Williams said: "This is an exciting development for our national training offering. The......