Summit Platforms buys JLG 1250AJ's 125ft articulating diesel boom
Posted on
Summit Platforms has taken delivery of its first 125ft articulating diesel booms. Following increasing customer demand Summit Platforms decided to purchase its first JLG 1250AJ's. The machines will all come as standard with on-board power and electronic anti-entrapment devices. The JLG 1250 (125ft) articulating boom was chosen due to its increased versatility, with a working height of 40.30 meters and an outreach of over 19 meters.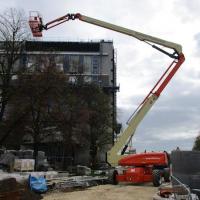 ---
Summit reaches the Summit
Posted on
Congratulations to all the children at Bower Ashton School in Bristol for reaching the Summit of Kilimanjaro! Summit Platforms helped children at Bower Ashton School in Bristol to raise money for a trip to Africa and to climb Kilimanjaro the world's highest free standing mountain at 5895m. Bower Ashton school have been going to Africa for over 10 years and they run the whole event themselves, therefore allowing all the money raised to be used in Africa directly. The project falls into 2......