Summit Platforms honoured by transport chiefs after celebrating 5th anniversary!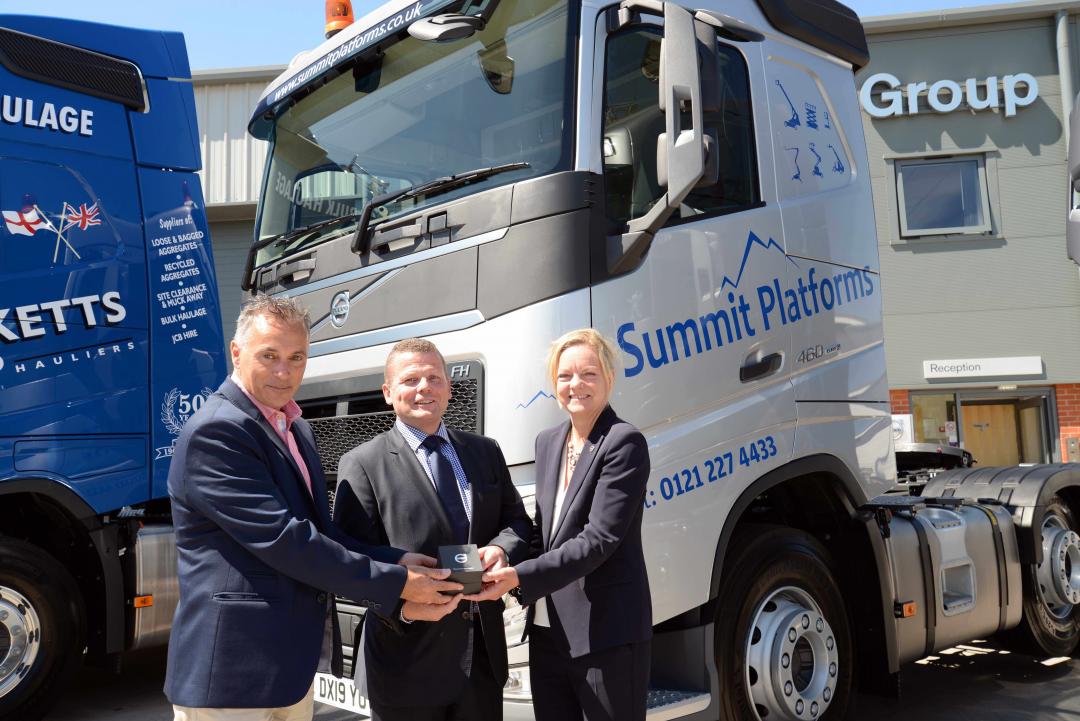 A COMPANY that started-up in Birmingham just five years ago has received a special award - after growing to become a nationwide operation employing over 100 people.
Summit Platforms is a supplier of specialist powered access equipment, including Booms, Scissors Lifts, Low Level Access as well as a fleet of Telescopic Handlers and associated Training Services.
The company's Transport Manager, Wayne Moult, has now been presented with an award by Volvo executives in recognition of Summit Platforms success and contribution to the Economy in the Midlands Region and across the UK.
Summit Platforms moves equipment with the help of a bespoke fleet of delivery vehicles that were built to order and supplied by the Hartshorne Group, a commercial vehicle distributor with depots throughout the Midlands, Derbyshire, Nottinghamshire, Staffordshire and Shropshire.
Martin Cronin, Managing Director of Hartshorne Group, said: "We'd like to be the first to congratulate Wayne and everybody at Summit Platforms for their phenomenal achievements over the last five years. In that short space of time, they have made a huge contribution within the West Midlands and across the UK."
Wayne is pictured receiving the award from Heléne Mellquist (President, Volvo Trucks Europe) and Robert Grozdanovski (Managing Director, Volvo Trucks UK & Ireland) at a recent business summit hosted by the Hartshorne Group.
Since its launch in Birmingham in May 2014, Summit Platforms has established a network of depots, including Birmingham, Bristol, Glasgow, Newcastle, Portsmouth, South Wales and Hinkley Point C Project.
Mr Moult, who is one of the cofounders of Summit Platforms said: "It's been a great five years. Our staff are committed to giving great customer service and providing the best quality equipment. It was wonderful to receive recognition of our achievements, both from the Hartshorne Group and also from top executives at Volvo."