Summit Platforms called in to help keep HMS Victory shipshape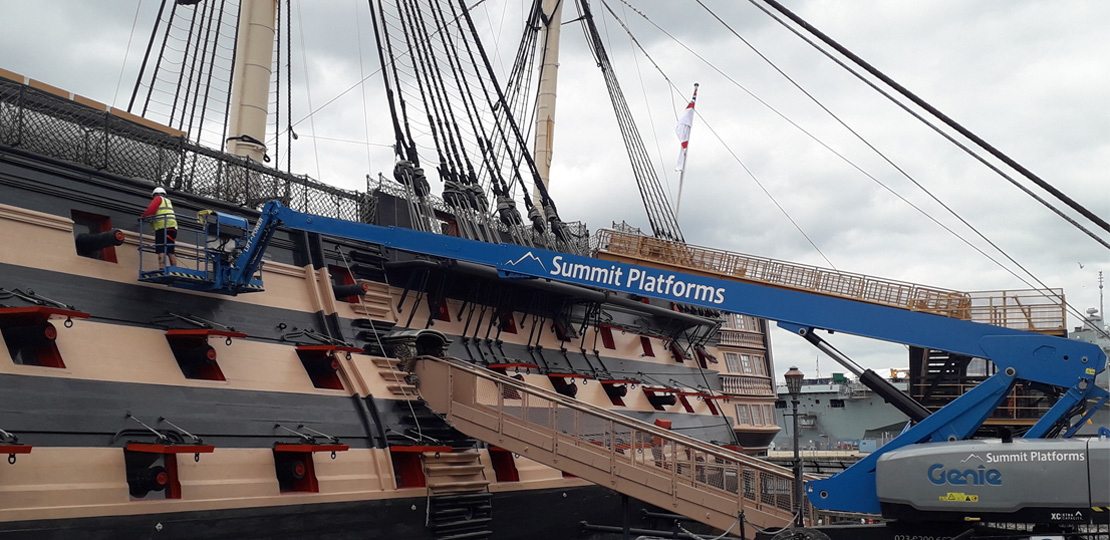 The National Museum of the Royal Navy has commissioned Summit Platforms to supply boom lifts for vital preservation work on two of its most precious historic ships.
The museum's conservation team is using the access platforms to carry out painting and other maintenance tasks on HMS Victory and HMS Warrior in the Portsmouth Historic Dockyard.
Pete Drew, Branch Manager of the Summit Platforms Portsmouth depot is particularly proud to support the work because his father trained and worked as an engineer at the naval dockyard.
Nelson's flagship
He explained: "Dad joined as an apprentice aged 14 and a half in the mid-1950s and by the time he finished, 20 years later, he was a senior engineer who had worked on hundreds of Royal Navy ships.
"As a kid, I went on many free tours of HMS Victory waiting for dad to finish work. I know that boat from top to bottom. For me, this project is as much a labour of love as an important commercial contract."
HMS Victory, famous for being Lord Nelson's flagship at the Battle of Trafalgar, remains the First Sea Lord's flagship and is the world's oldest naval ship still in commission.
When commissioned in 1861, the 9,120-tonne HMS Warrior was the largest warship in the world. She is the last example of the 'Black Battlefleet', 45 iron hulls built for the Royal Navy between 1861 and 1877.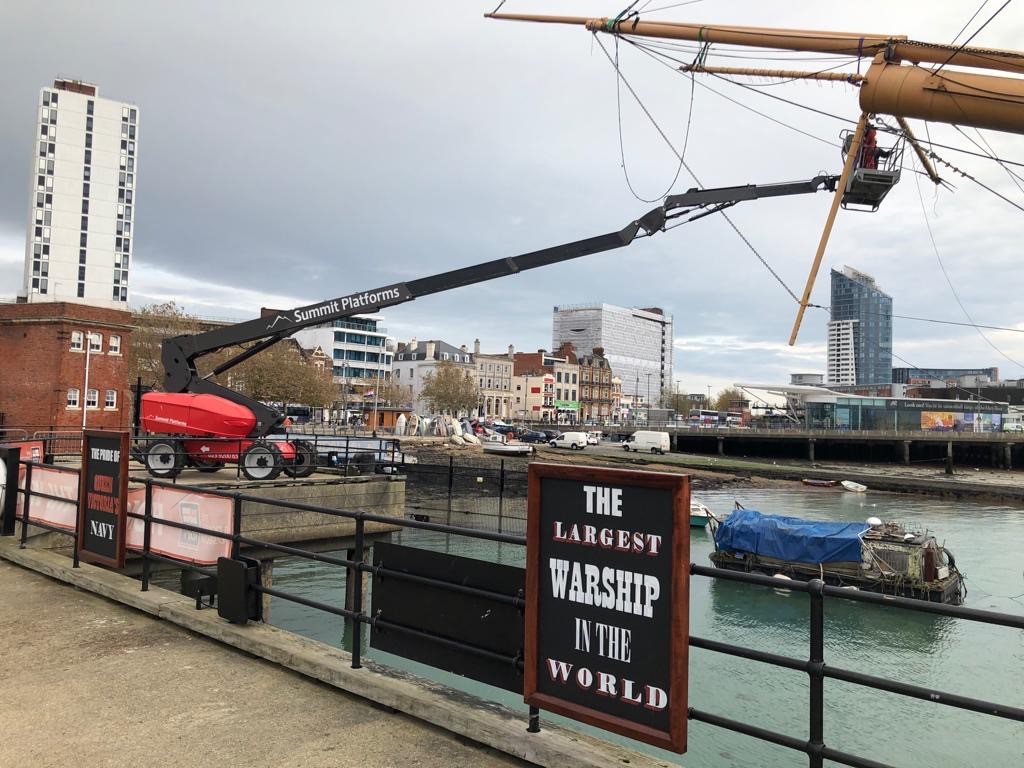 The Manitou 280TJ boom lift, supplied by Summit Platforms, being used to carry out maintenance on the bowsprit of HMS Warrior.
Diesel stick booms
Summit Platforms has supplied three different boom lifts to allow the museum's conservation team to access the ships from the dockside. The JLG 860SJ, Genie S85, and Manitou 280TJ are all diesel-powered telescopic boom lifts, also known as stick booms.
Museum Conservation and Maintenance Manager Roy Smith said: "We have a detailed schedule of works to preserve both ships. For example, HMS Victory's stern is painted every two years to prevent water ingress.
"Using access platforms in this way is the ideal solution. Our teams can work flexibly and safely at height, making only essential contact with what are treasures of the nation's seagoing heritage.
"We're pleased that Pete and his team at Summit Platforms can work with us on these projects which will continue for a number of weeks."
Basket capacity
The JLG 860SJ boom lift has a maximum outreach of 26.21m and a maximum working height of 28.21m. The Genie S85 delivers a working outreach of 23.32m and a maximum working height of 27.91m. While the Manitou 280TJ has an outreach of 21.45 and a working height of 27.75m.
The baskets on all the platforms have similar carrying capacities, 227kg for the Genie, 230kg for the JLG and 240kg for the Manitou, giving two operatives plenty of space to work with tools and materials.
They also have articulating jibs for precision basket positioning and 4x4 all-terrain capability.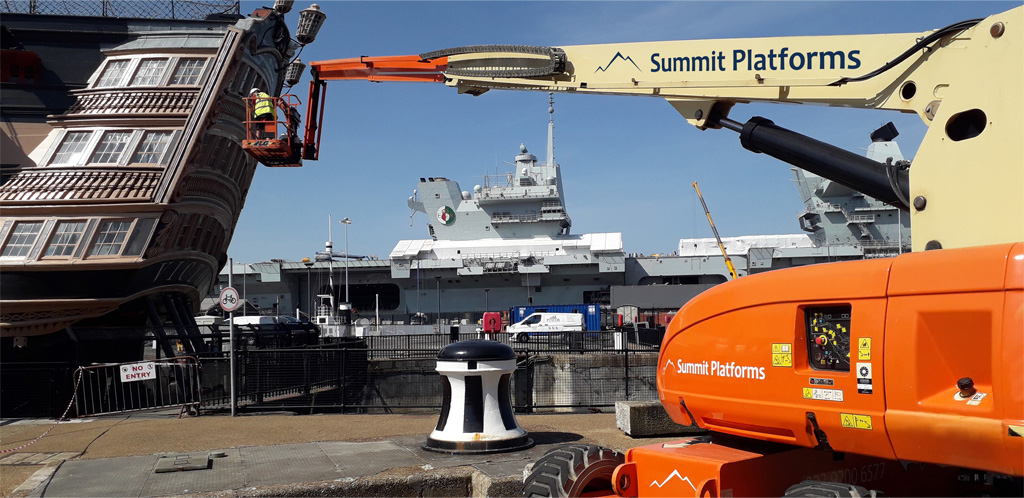 One of Summit Platforms' JLG 860SJ boom lift rises up to the ornate stern of HMS Victory, overlooked by the aircraft carrier HMS Queen Elizabeth, soon to become the Royal Navy's latest flagship.
Summit Platforms can offer boom lifts for hire with working heights from 10m to 44m and electric, diesel, bi-energy and hybrid power options. Scissor lifts can be hired with working heights from 6m to 22m.
HMS Victory and HMS Warrior welcomed visitors from Monday August 24 when the Portsmouth Historic Dockyard, which includes the Mary Rose Museum, reopened after a temporary closure caused by the COVID-19 pandemic.
For the first time since 1922, HMS Victory is 'afloat', supported up by 134 smart props, designed and installed by BAE Systems and the museum, which will allow visitors to walk under the hull, another first.
A Genie S85 boom lift, hired from Summit Platforms, is used by the Portsmouth Dockyard's skilled maintenance teams to paint the hull of HMS Victory.